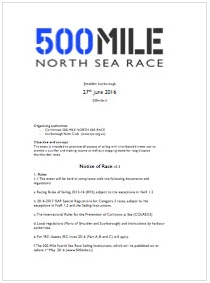 We issued an update to the previous version of the Notice of Race. The changes are mainly regarding rule 1.2 (500-Mile North Sea Race Rules).
We're now showing you version v0.3 on the RACE DOCS page.
In brief:
• The 500-Mile Race will stay a ISAF Cat 2 race, with a few exceptions though:
• An AIS transponder is not obligatory, but highly recommended. If no transponder has been fitted, a radar reflector shall be permanently installed.
• A try sail may be replaced by a reefed main sail as long as the reefed luff is less than 40% of the unreefed luff.
• We had questions on OPST Survival courses. We still highly recommend to follow one, but a maritime survival course like the Get Wet one on the Maasvlakte in The Netherlands (or national equivalent) will suffice.
• Proper knowledge of First Aid is very important; we cannot be less clear about that. Do follow a course and train frequently. The Skipper shall sign a declaration that the crew is capable of taking the important necessary steps in case of medical emergencies.